* Appointments are accepted in Japanese by telephone only. We apologize for any inconvenience.
Reservation and Pricing
* We accept one set of customers for each photo session, by appointment only.
KATUFUMI
Tel:(075)465-0188
ZIP Code:602-8395
Address:676-2 Syake nagaya-cho Kamigyo-ku, Kyoto City
Studio Hours:10:00-18:00, A non-regular holiday
* Ms.Katufumi may have ochaya (tea house) engagements or may be out of town, please make appointments in advance.
Pricing Plan
Maiko or Geiko makeover experience
21,500yen (tax not included)
Includes 5 Polaroids, Two 5" x 7" portrait (including with portrait folder), One 3.5" x 5" photo.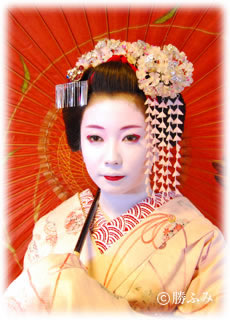 * Customer Portrait
* Photos will be available on the day of the photo shoot.
* Kuromontsuki (formal black kimono) Add 2,000yen (tax not included)
* Half-wig (Maiko) Add 3,000yen (tax not included) (If your hair is not black, we will use temporary hair coloring for the photo session.)

5" x 7" portrait
Kimono & Hana Kanzashi
There are many styles of maiko and geiko's kimono and hana kanzashi. We continue to add more new styles and decorative pieces to our collection.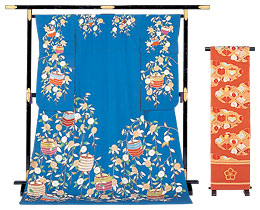 « Maiko »
The kimonos worn by geiko and maiko are called "Ohikizuri" (outer garment of kimono with train) with special long train. When maiko or geiko are at their performances / appointments, they will lower the train. It's very special and requires the kimono to be specially tailored.
Maiko's kimono has folds on their shoulder and sleeves, which signifies that they are still minors (underage of 18).
« Geiko »
These are maiko's and geiko's kimonos and obi sash ornaments. Based on the season, we can also adjust the color of underwear kimono (naga juban), the collar and accessories to fit your taste.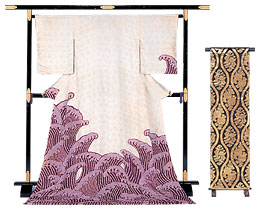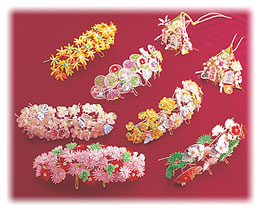 « Hana Kanzashi »
We have beautiful hana kanzashi (hand-made flower hair ornaments). Different kanzashi is worn for different moth as well as special kanzashi or special occasions. We will help coordinate the kanzashi with your kimono and the season.
KATUFUMI - Tel:(075)465-0188 / 676-2 Syake nagaya-cho Kamigyo-ku, Kyoto City